Frances Walker-Slocum
Clarence Cameron White
Photo by APEX (Paris)
"First American appearance after two years in Paris"
On February 21, 2014 AfriClassical posted an excerpt from The Longfellow Chorus Newsletter of February 20, 2014:
The final paragraph of the blog post reads:
The first black woman to become a tenured professor at Oberlin, she taught there from 1979 until her retirement in 1991. A distinguished, internationally acclaimed piano recitalist, she has championed music by minority composers throughout her career. As such, she is a fountain of knowledge, not only about Samuel Coleridge-Taylor, but also about numerous composers whose music has been overlooked or forgotten.
Here is the second portion of the text of The Longfellow Newsletter of Feb. 20, 2014:
[Clarence Cameron White, 1880–1960, violinist, composer and educator, attended Oberlin College from 1896 to 1901. From 1906 to 1909 he studied and performed with Samuel Coleridge-Taylor in England. He was inspired to compose his opera, Ouanga—about the turbulent early years of the Haitian Republic—after attending with Coleridge-Taylor a performance of SC-T's opera Thelma in Queen's Hall, London, in 1908. Photo by Charles Kaufmann from the Oberlin College Archives.]
Ask her, for example, about her personal experience advocating for the music of Clarence Cameron White, 1880–1960. Unlike Walker-Slocum, who received her Oberlin degree in 1945, White attended Oberlin College from 1896 to 1901, but did not receive a degree. White was the only black member of the Oberlin student orchestra during his student years there.
Clarence White grew up in Oberlin. It was a performance of Messiah at Oberlin College, attended by White at the age of six, that first inspired his love of music.
White's grandfather, John H. Scott, was a freed slave who moved to Oberlin with his family and became active in the Oberlin-Wellington Rescue Community, part of the Underground Railroad. Scott's grave is stop #22 on the
Oberlin Freedom Trail
.
White met Coleridge-Taylor in 1904 in Washington, DC, when SC-T conducted his Scenes from The Song of Hiawatha with the Samuel Coleridge-Taylor Choral Society. White performed with SC-T during his repeat performances in Washington and elsewhere in 1906, and studied with him in London until 1909.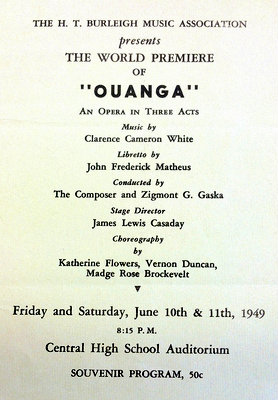 [Concert program from the premiere of Ouanga, by Clarence C. White. Photo by Charles Kaufmann from the Oberlin College Archives.]
Conceived in 1908, completed in 1930, but not performed until 1949, White's opera Ouanga was inspired by a performance in Queen's Hall of SC-T's opera Thelma, which White attended with SC-T in 1908. Based on the story of the assassination of the first emperor of Haiti, Jean-Jacques Dessalines, and with its influence of Haitian folk music and Vodou spirituality, Ouanga can be called White's Hiawatha.
Clarence White, 1880–1960, was five years older than his mentor, Samuel Coleridge-Taylor, 1875–1912. We can only imagine and wonder what SC-T would have accomplished had he also lived until 1960.
Ouanga
awaits its first twenty-first century performance. White's papers, including musical scores and correspondence with Coleridge-Taylor, are in the
Clarence Cameron White Papers
at the New York Public Library.
Charles Kaufmann, Artistic Director
PO Box 5133
Portland, Maine 04101

Comment:
Note: It is Clarence White, himself, who, many years after the fact, said he saw Thelma with SC-T in 1908. Jonathan Butcher points out, "SC-T hadn't completed Thelma in 1908" and it was never performed in Queens Hall. "What is correct is that, I believe, the Thelma Prelude/Fantasie was premiered at the Queens Hall."
Charles Kaufmann